Keri McCann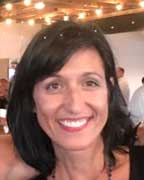 Ms. McCann was nominated by the Downtown Morehead City Revitalization Association.
Along with her husband Jeff, Ms. McCann is co-owner of Jack's Waterfront Bar in Morehead City.
In September 2008, Jack's became a cornerstone of activity for the waterfront. It is now a destination location for Crystal Coast visitors and locals alike. Many people say that Jack's was the catalyst that started the revitalization for the Morehead City waterfront.
In addition to the day-to-day management of the bar, Ms. McCann is active in the community. She is the past-chairperson of the board of directors for the Downtown Morehead City Revitalization Association and chaired the DMCRA's fundraising committee for a number of years.
The Alive at Five family-friendly free concert series was her idea, and she has been the driving force behind it. The concerts bring thousands of people to the downtown area over the summer months.
She has also been instrumental in the creation and staging of the Chowder and Cheer Crawl during the holidays that also bring hundreds of people downtown to sample chowders and gumbos at a dozen different restaurants and raises funds for the DMCRA.
Additionally, Ms. McCann has hosted fundraising events at Jack's for the Carteret County Domestic Violence Program, Reelin' for Research, Project Christmas Cheer, Martha's Mission, Carteret County Humane Society, the Arts Council of Carteret County, the Beaufort Music Festival and Crystal Coast "First Night."
Her involvement with Reelin' for Research brought in $457,000 for pediatric cancer research this year.
On an ongoing basis, Ms. McCann is directly involved with raising funds to go toward paying medical bills for local residents who have fallen onto hard times.